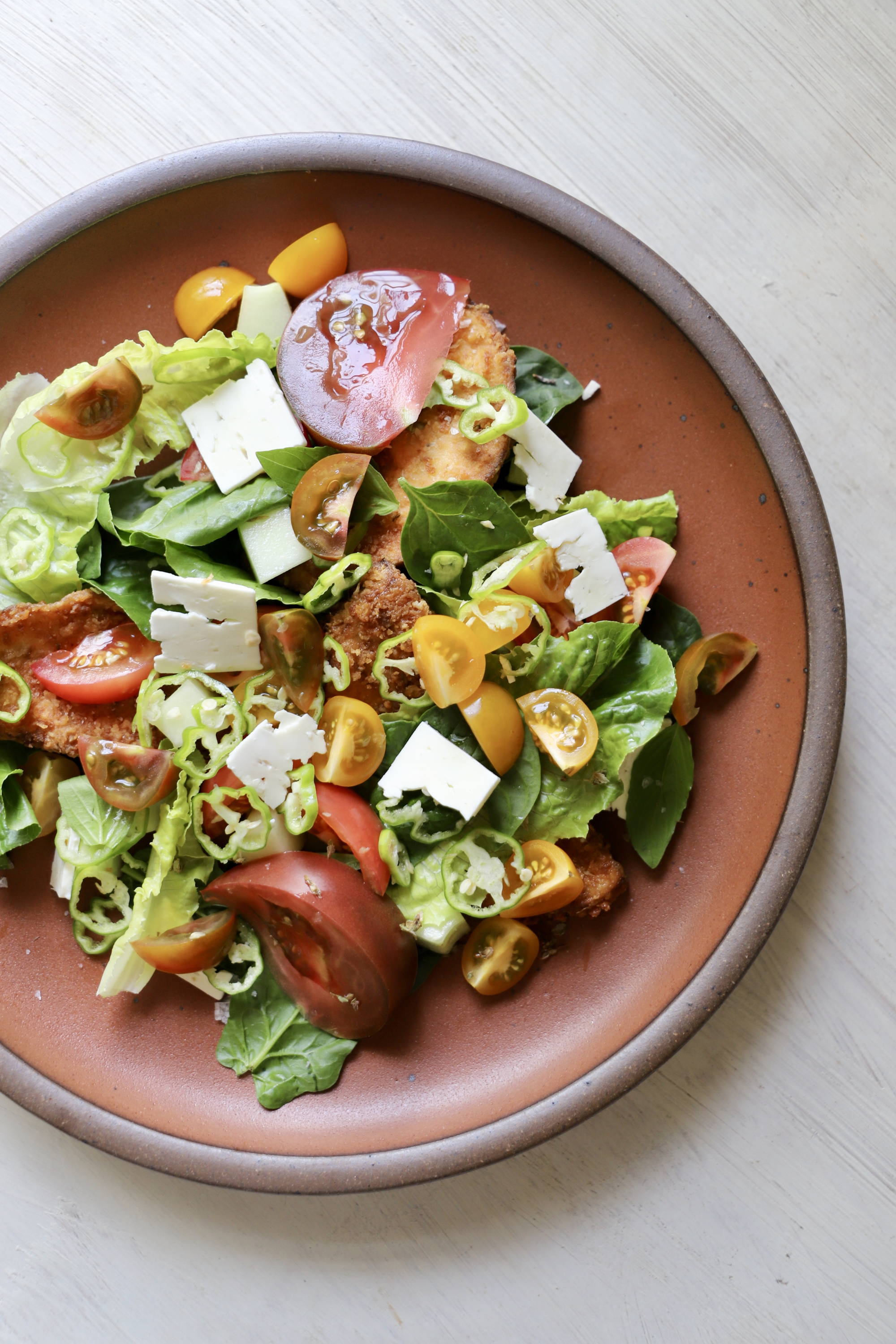 ---
A reflection on cravings, pregnancy, and motherhood from Whitney Otawka and a crispy, herbal salad recipe to follow.
A reflection on cravings, pregnancy, and motherhood from Whitney Otawka and a crispy, herbal salad recipe to follow.
---
Before we found out we were expecting parents for the first time, my husband and I often mused over what pregnancy would be like for us. We wondered what wild flavor combinations I would crave and anticipated meal requests at any given hour of the day (late night chicken wings or midnight Italian subs perhaps?). As Chefs, we were excited for the "cravings." A phase I can now admit I never experienced. In fact, for me, it was the opposite.
During my first trimester, I was on tour with my first cookbook The Saltwater Table and within days of landing in New York City, my food aversions began. I found myself unable to eat much of anything. The smell of the most beautiful bakeries in the city made me gag. Reservations at Misi in Brooklyn left me eating nothing more than buttered noodles. Dinner began to consist of honey nut cheerios and peanut butter toast in my hotel room. Advice from my expert Mom friends told me my aversions and nausea would dissipate by the second trimester. I watched the weeks tick by, and it only got worse. After eating, I began to have a soapy taste in my mouth which later grew into heartburn that would wake me in the night. I longed to have my appetite back but by week 30, with no end in sight, I resigned to anticipating what food would be like on the other side of pregnancy.
With a due date in early June, I knew summer produce was waiting for me when I crossed the finish line. Anticipating platters or plump, acidic tomatoes drenched in peppery olive oil helped me forge through the final weeks. Thoughts of spicy roasted peppers and crushed basil pistou motivated me daily. My favorite of the summer season is fried eggplant. Light and crispy on the outside with a creamy soft interior, this indulgence was my first meal request after giving birth.
It's been over two months since we welcomed our wild, sweet boy into the world and I am happy to report my taste buds are back to normal, as is my voracious appetite. During these first few months of keeping up with breastfeeding I have tried to balance my newly returned cravings (I cannot get enough ice cream) with nutrient dense vegetables that give me the energy I need. This fried eggplant salad is for all the busy new parents out there. We like to fry up extra slices of eggplant, eating some for dinner and using the leftovers for this salad. Feel free to use any of your favorite veggies to build a personalized version of this salad.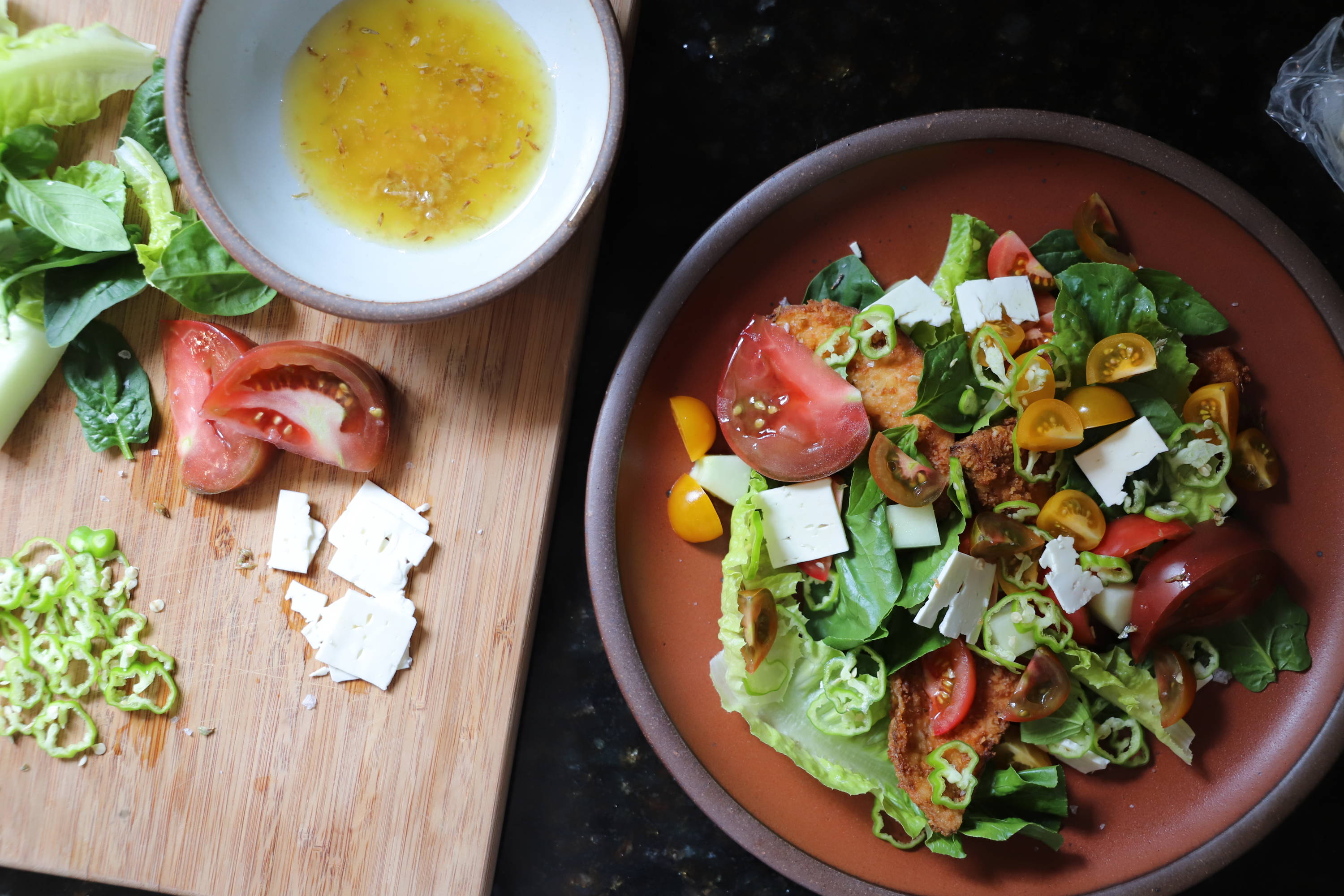 Fried Eggplant Salad with Wild Thyme Flower & Honey Vinaigrette
( Serves 2 )
These wild thyme flowers, hand-harvest in Greece, they add a unique floral, herbaceous note to the vinaigrette.
1 heirloom tomato, sliced into thin wedges

8 cherry tomatoes, cut in half

½ cucumber, sliced thin

handful of mixed lettuces

fried eggplant (recipe follows)

a few leaves of fresh basil, torn into pieces by hand

2 shishito peppers, sliced thin

2 ounces feta cheese, crumbled or sliced

wild thyme flower vinaigrette (recipe follows)
To make the salad:
Combine the heirloom tomato, cherry tomatoes, and cucumber together. Lightly season with the sea salt, set aside. On a serving platter, add the lettuce and layer in about half the fried eggplant. Spoon the seasoned tomato/cucumber mixture over the eggplant and lettuce. Top with the remaining fried eggplant, basil leaves, shishito peppers, and feta. Drizzle the vinaigrette, to taste, over the salad and serve.
Fried Eggplant:
1 large eggplant

1 cup plus a little extra all-purpose flour

1 cup panko breadcrumb

¼ cup cornstarch

1 tablespoon kosher salt, divided

1 tablespoon crushed wild thyme flower (optional)

1 egg

¼ cup whole milk

canola oil to fry in
Prepare the eggplant:
1. Peel the eggplant, slice in half lengthwise, and cut into half-moons that are about 1/3 inch thick. Lay eggplant slices out flat and season with 1½ teaspoons of the kosher salt and set aside.
2. In a dish, combine the 1 cup flour, panko breadcrumb, remaining 1½ teaspoons salt, and thyme flower. Stir to incorporate. In a separate dish, whisk together the egg and milk. Lightly dust the sliced eggplant with extra flour on both sides (this will help the dredge stick to it).
3. In a large cast-iron pan, add in enough oil so that it is about an inch deep. Preheat oil to 350° F.
4. Take several slices of eggplant and place them in the egg mixture to coat them. Use one of your hands to lift them out and transfer to the seasoned flour/breadcrumb mixture. Use your other hand to evenly coat the flour mixture onto the eggplant. Remove dredged eggplant and place on a tray. Repeat process until all eggplant is dredged.
5. Working in batches, add several pieces of dredged eggplant to the frying oil, careful not to overcrowd the pan. Cook until golden brown and crispy, flipping as needed, around 6-8 minutes. Remove from pan and transfer to a wire rack or a paper lined tray. Repeat process with remaining eggplant.
Wild Thyme Flower & Honey Vinaigrette
Yields ¾ cup
1 small garlic clove, minced

½ teaspoon Dijon mustard

2 teaspoons crushed dried wild thyme flowers

½ teaspoon honey

2 pinches of kosher salt

¼ cup red wine vinegar

¼ cup canola oil

¼ cup olive oil
For the vinaigrette:
In a bowl, stir together the garlic, mustard, thyme flowers, honey, salt, and vinegar. Slowly whisk in the canola and olive oil until emulsified. Vinaigrette can be stored in the refrigerator for 1 week.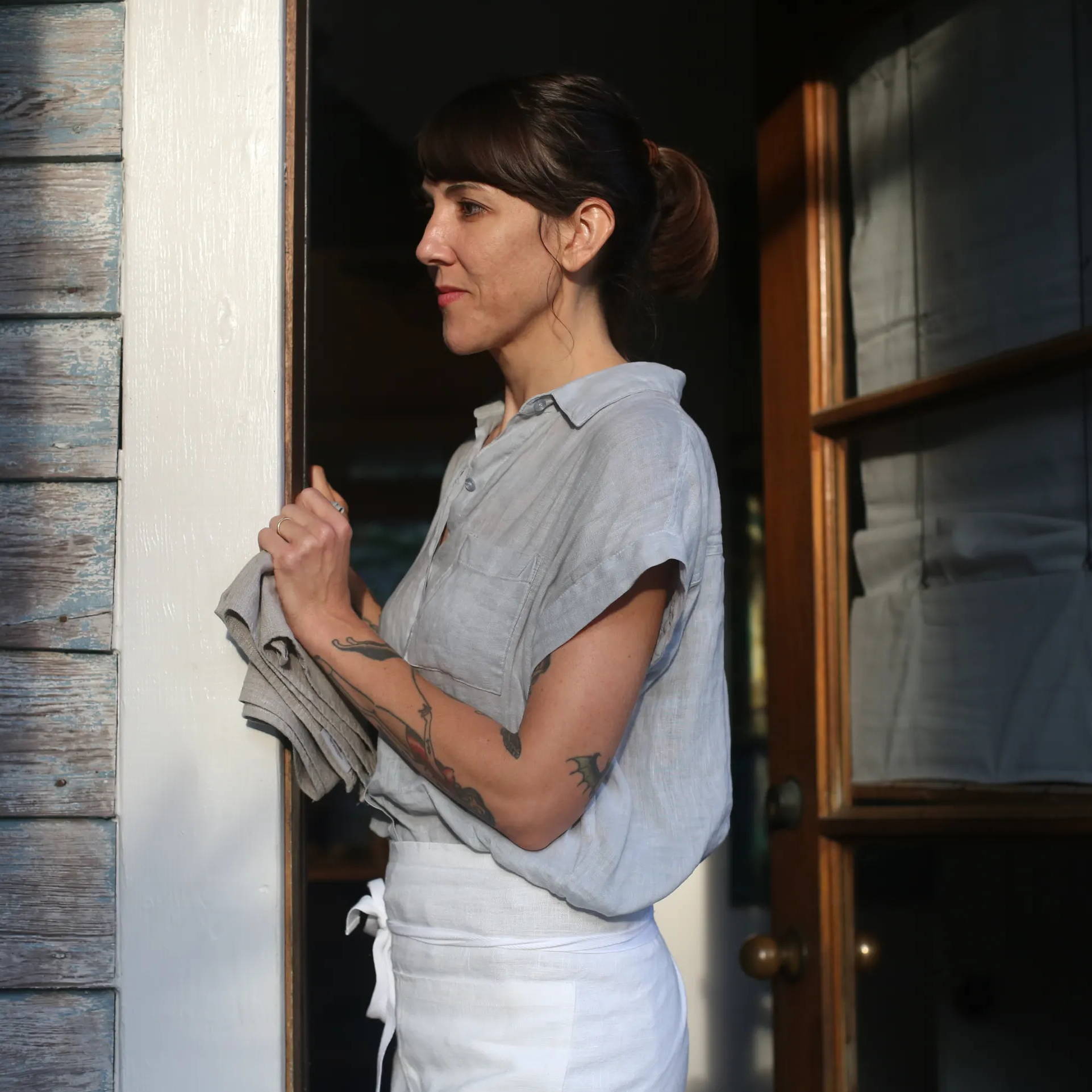 ---
About Whitney Otawka:
Whitney is a chef, cookbook author, recipe developer, and frequent traveler. Whitney's perspective on cooking is guided by her early years growing up in the Mojave Desert of Southern California, college years in the culinary Mecca of the Bay Area, and a submersion in the footways of the American South. From produce and preservation, to cooking outdoors over live fire, Whitney seeks to reflect the unique flavors that define the culture of the places we call home, over a shared table and and a good meal, of course. Whitney and her partner Ben, recently gave birth to their first son, Fig.
---
---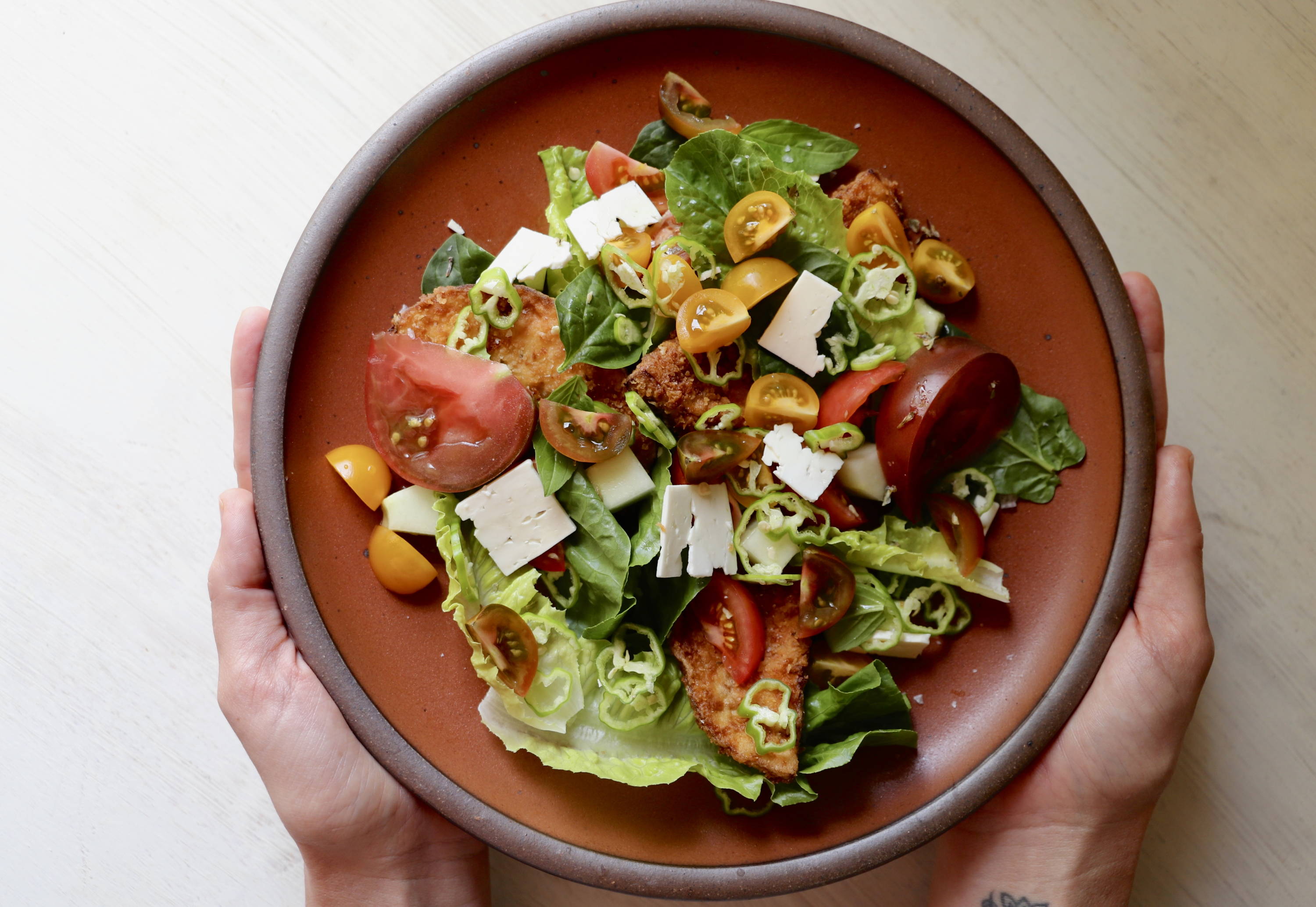 ---
---