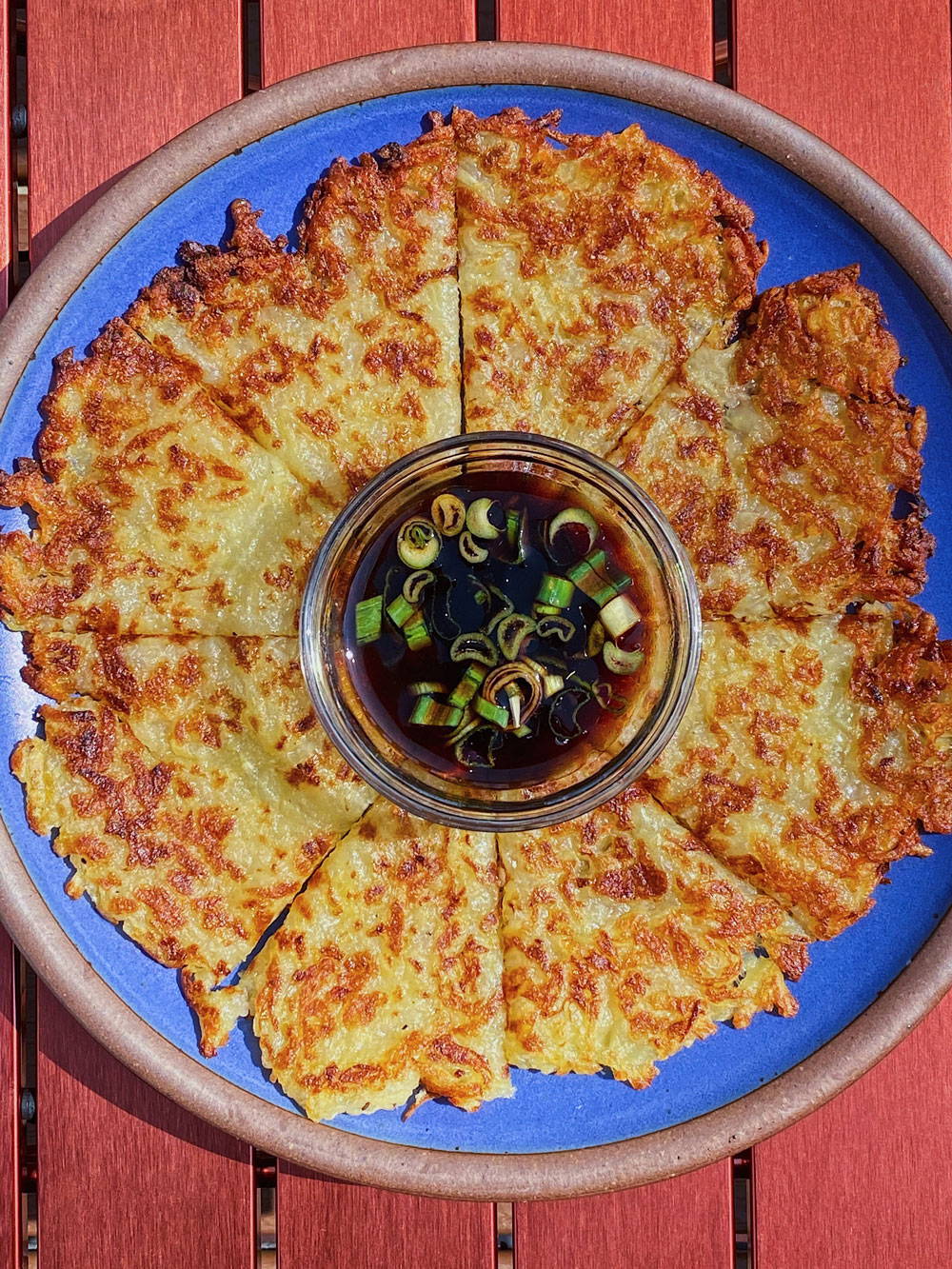 ---
This four-ingredient wonder has the power to make every day better.
---
Maintaining a regular eating schedule in quarantine has been difficult, but one thing remains consistent: late afternoon gamjajeon. When I don't want to spoil dinner but am so hungry I can't think straight, I make this four-ingredient Korean potato pancake that I liken to a less fussy latke. It has intensely crispy edges and a satisfyingly chewy center—thanks to potato starch, which also makes this recipe gluten-free—and can be cut into wedges and dipped in a tangy soy-vinegar sauce or drizzled with mayonnaise, hoisin, katsu sauce, ketchup, or whatever your heart tells you belongs with potatoes.
Gamjajeon is also greatly enhanced by a runny fried egg on top for any meal of the day.
I first learned how to make this recipe from watching Maangchi, the YouTube superstar and cookbook author who acts as the world's collective Korean mom. I was adopted from Korea as a baby by a Jewish mom, so I like to think this recipe is the perfect merging of my two cultures, even though neither my birth mother nor my adoptive mother taught me how to make gamjajeon or latkes. The magic in this easy recipe is that everything happens in one bowl and there is no need to wring out the moisture from the grated potatoes. The liquid that comes from the potatoes actually helps bind the batter with potato starch! My adaptation has a little extra onion in the batter and fries it mostly on the first side to make sure it is as shatteringly crispy on the edges as possible.
This recipe makes one 10" shareable pancake for a snack, or a single serving for a meal for one. The recipe also doubles well to make dozens of bite-sized pancakes for parties (topped with creme fraiche, salmon, and dill for a more Jew-ish take)—just keep an eye on them to time when to flip for the ideal crispy crust.
Gamjajeon (Korean Potato Pancake) with Soy-Vinegar Dipping Sauce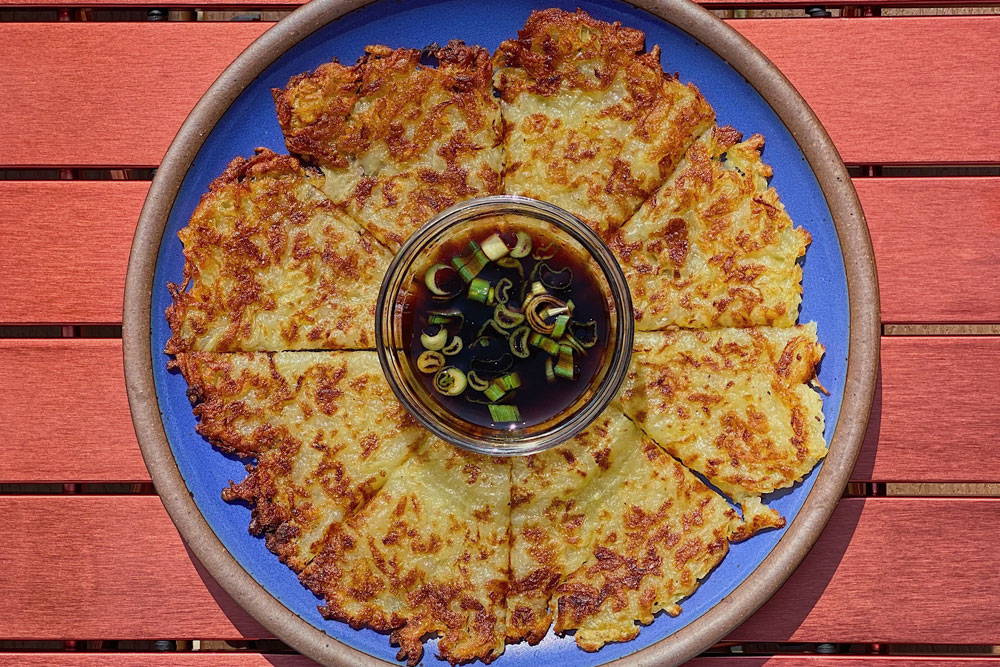 For the dipping sauce:
2 Tbsp. low sodium soy sauce

1 Tbsp. unseasoned rice vinegar

½ tsp. toasted sesame oil

One scallion, chopped thinly, for garnish

Sesame seeds, for garnish (optional)
For the pancake:
1 large russet potato, scrubbed, peeled, and grated (approximately 1 cup)

½ small onion, peeled and grated (approximately ⅓ cup)

½ tsp. kosher salt

A few grinds of black pepper

¼ cup potato starch (find it at your local Asian grocer)

¼ cup neutral oil (such as vegetable, canola, or grapeseed), divided in 2 Tbsp. portions for cooking the pancake
Directions:
First, make the sauce by combining the soy sauce, rice vinegar, and toasted sesame oil in a small box. Garnish with scallions and sesame seeds (optional). If you want to add a little spice, add a sliced jalapeno.

On the large holes of a box grater, grate the peeled potato and half an onion into the same bowl. Add the potato starch, salt, and a few grinds of black pepper and stir together with a fork or chopsticks, making sure to evenly distribute the starch throughout the mixture.

In a large non-stick skillet (10"-12"), heat 2 Tbsp. of oil over medium-high heat for a few minutes until the oil is shimmering. Add the potato and onion mixture to the center of the pan, pressing with a spatula to smooth it toward the edges until it is one even layer. You may need to press the pancake in from the edges to make sure it is an even thickness throughout, about ¼", but don't be too fussy about it).

Let the pancake cook undisturbed for 10 minutes, rotating the pancake clockwise once or twice with a spatula so it browns evenly.
Give a peek and make sure the pancake looks golden brown all over. If not, let it cook two minutes more. Lift the pancake up on one side and add the remaining 2 Tbsp. of oil, swirling it around the bottom of the pan. Flip it quickly and allow it to cook for another 5–7 minutes until crispy. Remove from the pan, cut into 8 wedges, and serve with dipping sauce. Other topping options are a drizzle of Kewpie mayonnaise and katsu sauce, hoisin sauce, or ketchup. It is also great with a fried egg on top, particularly for breakfast.
---