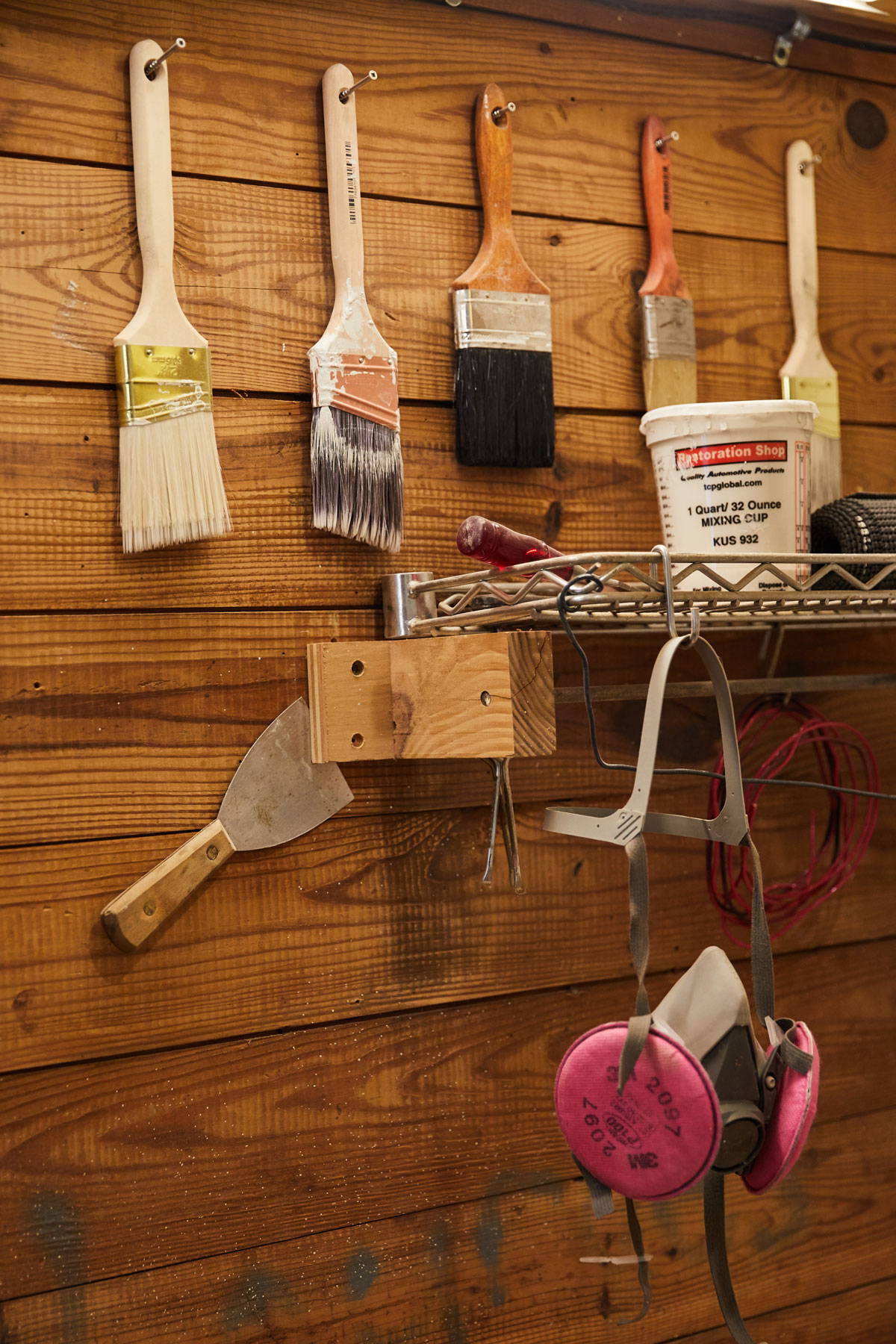 The East Fork collection has a new serving board we'd like to tell you about, along with our friend and conspirator in wood, Andy McFate. Connie Matisse, East Fork's co-founder and CMO, wanted to offer the sort of serving board that solved the age-old problem of Pardon My Reach: inevitably, someone has a disadvantageous seat best suited for watching other people eat. "I loved the idea of a board that was long enough for folks at both ends of the table to be able to lean over and pick at, with plenty of room on either side still to put drinks and elbows. The indented handle on each end makes it easy to pluck off the table with grace," Connie said. "As we've been working with Andy for years now, I trusted that he'd be able to interpret those wants into an easy, beautiful piece that won't ever feel dated."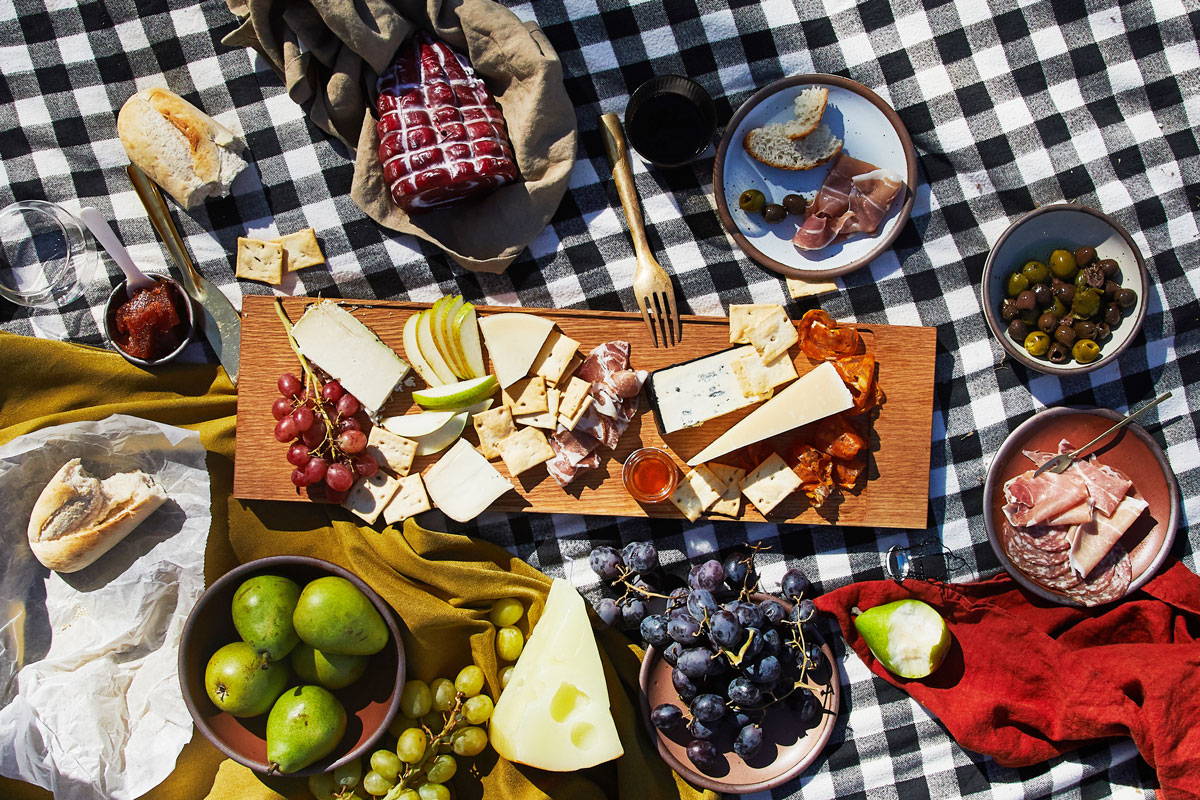 We offer the image above as an argument against jam-packed charcuterie boards. Connie said, "Unlike what trends on TikTok, I like to keep a charcuterie board a bit more tidy, with space between each grouping of meats or nuts or fruits or spreads or compotes to give some breathing room and make easier work of slicing."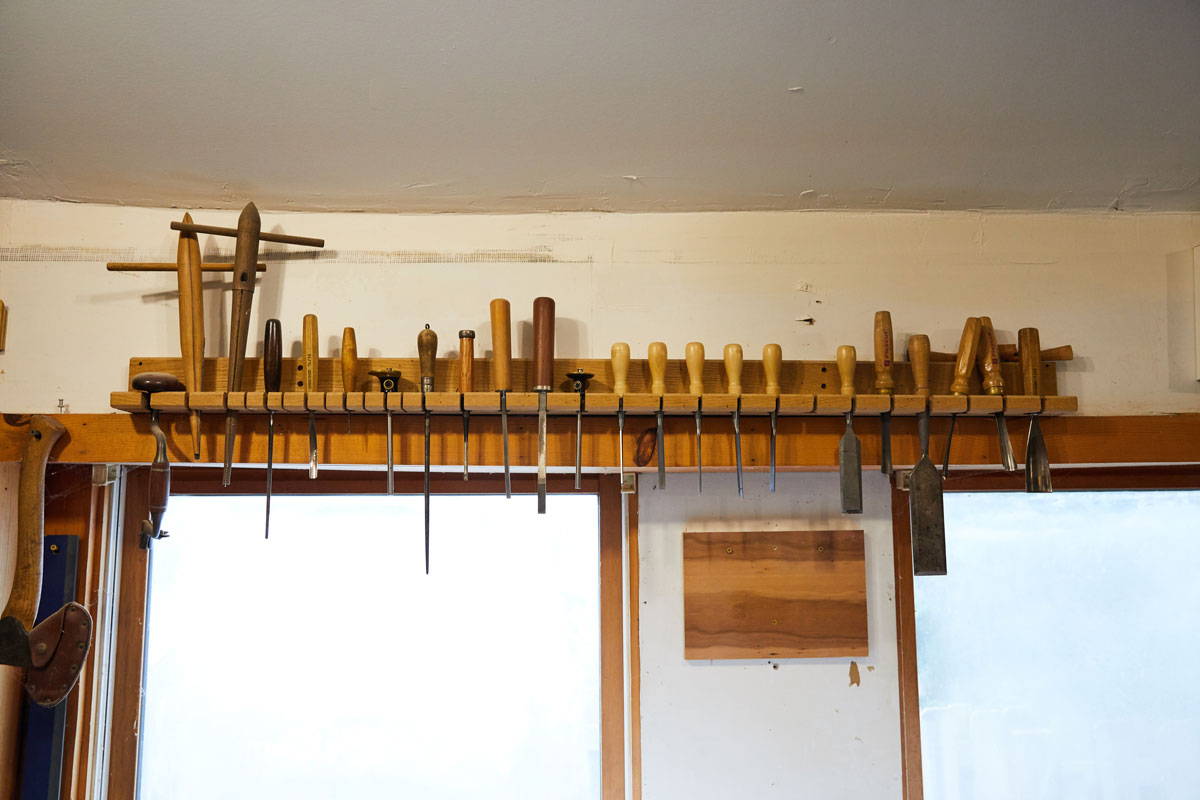 Tools in Andy's workshop.
Andy met East Fork's co-founder and CEO Alex Matisse, in Madison County, when East Fork was taking root and Andy was working on a sorghum farm. Andy does and can make a lot of things, but it was decided he should make boards for East Fork because they have a relatively streamlined production process and are functional and enduring.
A cutting or charcuterie board starts two years out—two years out! The pieces of wood that become Andy's boards ideally come from large, urban logs. These logs are quarter sawn, which allows them to be more dimensionally stable than "plain sawn" logs. After being cut, the boards air dry for one year—the general rule of thumb is one year of drying time for each inch the board is thick. Once your 1"-thick boards have air dried for a year, they're cut, flattened on the jointer, and then they sit for a week. Andy repeats this process several times, to get the boards as dimensionally stable as possible.
Andy uses white oak for his cutting and serving boards, and for good reason. White oak has historically been used by boat builders, because a silicon compound in the wood called tyloses plugs the wood's pores and keeps it watertight. White oak is highly resistant to rot and decay and is antimicrobial. If you've seen Andy's boards in our stores or online, you may have noticed some are lighter wood, while others are very dark brown. They're all white oak, but the darker boards have been ebonized. Ebonizing refers not to a stain applied but to a chemical process that occurs within the wood. White oak has a high tannic acid content, so when a catalyst is applied, the tannic acid reacts and changes color.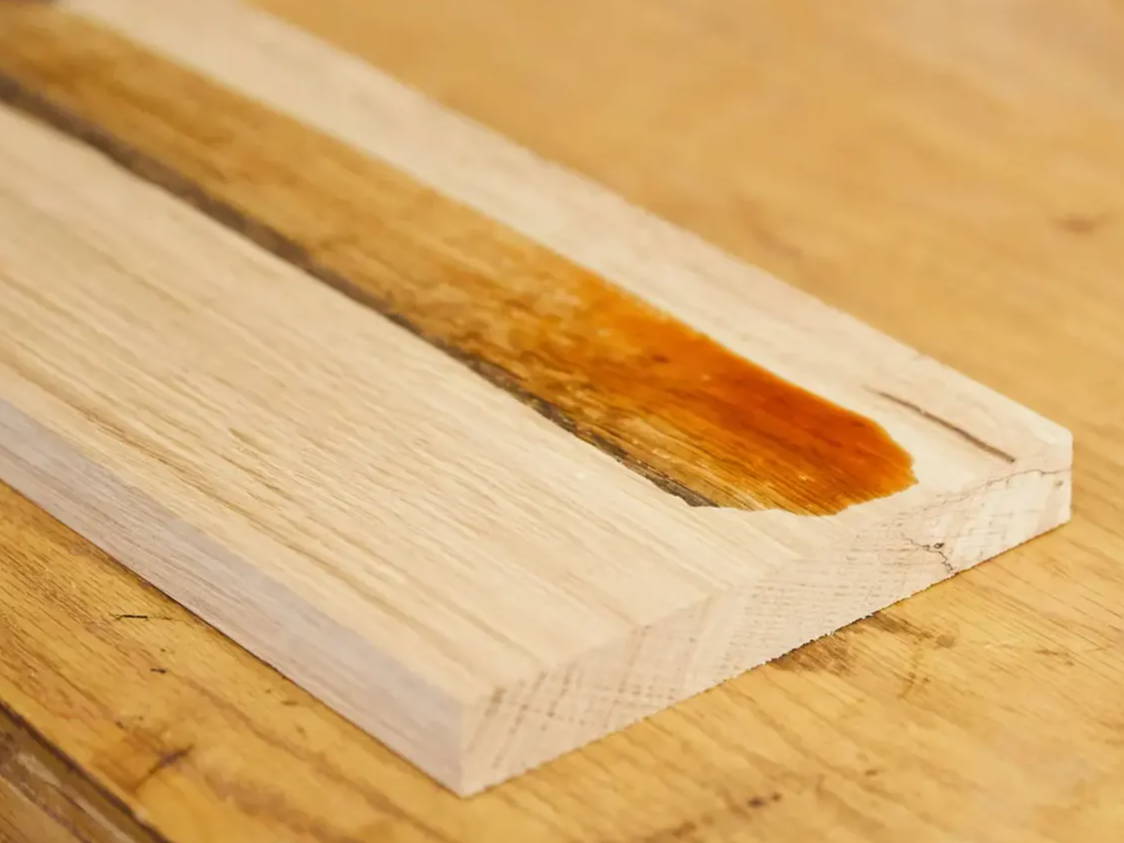 Solution being applied to the white oak.
The first step in the ebonizing process: a solution of iron oxide and vinegar is applied to the white oak.
For all the reasons Andy uses white oak, others are after the same wood. Andy tells us the price of white oak has tripled since he started making cutting boards because it's so in demand. The biggest purchaser is the whiskey industry, as white oak makes excellent whiskey barrels for all the same reasons it makes excellent cutting boards. Andy said that in considering other types of wood to use, maple is a contender, but he doesn't find the graphics as nice, and red oak is much more porous than white oak. It's possible to ebonize woods other than white oak, but you have to introduce tannic acid if it doesn't naturally occur in the needed amounts.
So that's how Andy makes cutting and charcuterie boards for us, but the large pile of wood that will become cutting boards is just one of several projects Andy has made several large pieces for Sauna House here in Asheville, he's made tea trays for Dobra Tea House, another local favorite. He was heavily involved in the construction of beautiful Airbnb The Nook (that's also full of East Fork and many of our favorite local makers) and works with Shelter, a design studio responsible for, among other things, the beautiful East Fork Asheville (which Andy naturally had a hand in).
Though that kind of large-scale building project is very different from his production-style work, Andy said that when making furniture, while functional, he's making something that is not absolutely necessary to the human experience. Shelter is another matter: humans need shelter and places to live, so fulfilling that need is something he finds deeply rewarding.
Let's go back to those boards starting two years out. There's comfort in the thought of things growing now, in these strange times that we cannot yet see, things growing that we will celebrate two years out.