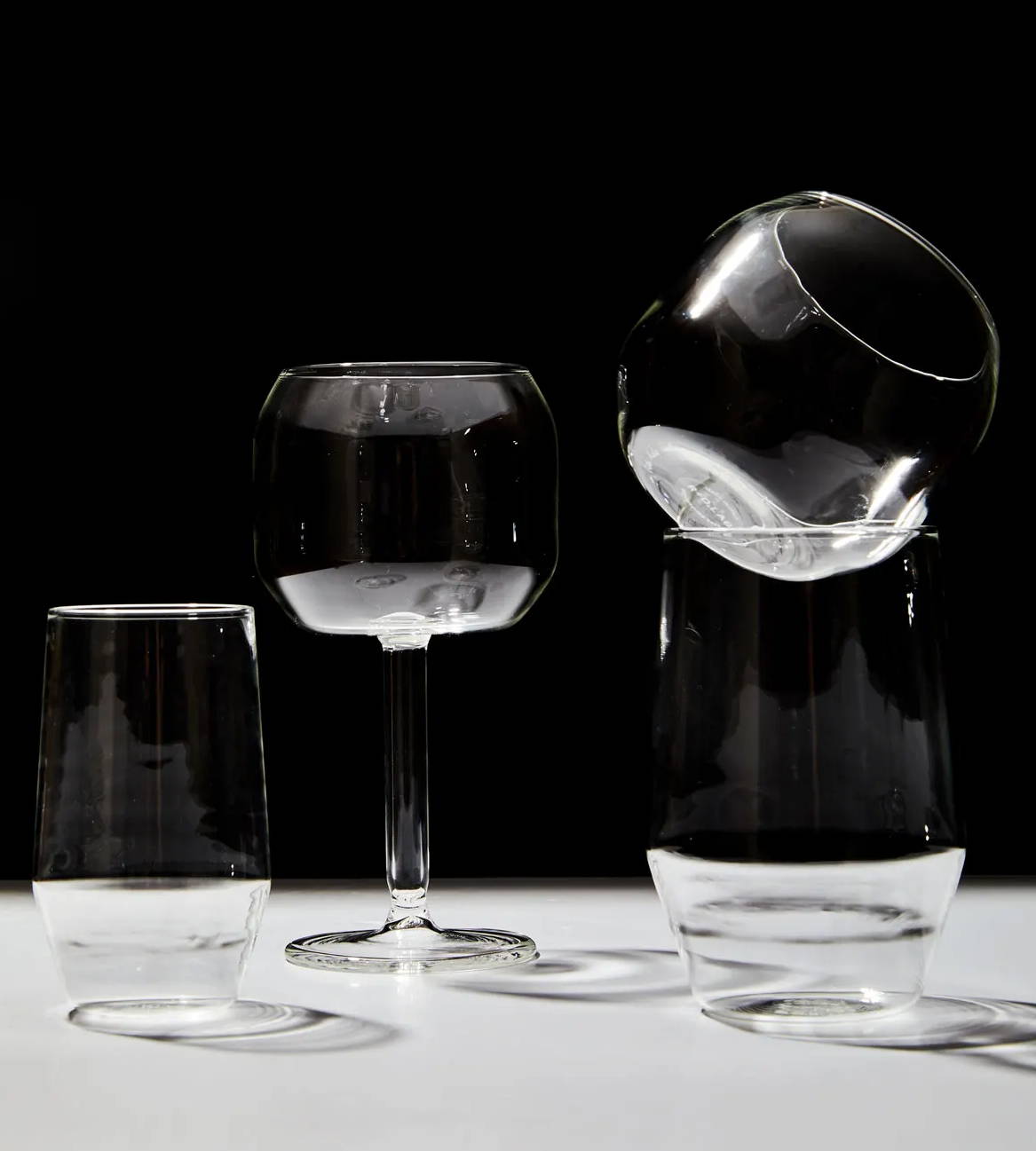 ---
In appreciation of glassware, timeless and special, and the people who design it and create it with their breath and hands.
---
East Fork has been selling 100% hand made and mouth blown glassware from Italy's R+D Lab design studio for some time with wholehearted enthusiasm. We love everything that comes from their workshop's third-generation glassblowers. We wish R+D Lab also made clothes and houses and cars...and this isn't some unfounded impulse: R+D Lab founders Sara Mostofi and Jay Vosoghi write, "Understanding the threads that connect modern architecture, art, design, and fashion inform our process, and in turn, our products." It's plain to be seen.
And as the bonafide Glass People on our team—we're talking those who scour every antique store and estate sale and turn online auction sites inside out and shake them until the vintage glassware falls into their waiting and steady hands—can tell you, R+D Lab is the very best. Their vessels have the soul that can't be found in machine-made glassware and an aesthetic so singular, its pieces seem to come from the past and the future simultaneously. In short, there's nothing else like them.
It's the trademark hollow stem. It's the angles. It's the way the light hits the glass—borosilicate glass, to be exact. Jay Vosoghi explained why R+D Lab uses it. "For us, it is very important to have a marriage of a very technical product with an ancient method of making it and there the beauty lies." To be sure, beautiful things are sometimes mistaken for the things to be used rarely, to be worried about because they could break or be difficult to take care of, to admire but not exactly enjoy. Glassware from R+D Lab is the antithesis of that. Everyday luxury is the idea that compels their designers and artisans.
Sourced from a German company that makes its glass in Switzerland and was in fact the first company to begin selling borosilicate glass back in 1893, R+D Lab uses the highest quality borosilicate glass. It is a marvel. Thin and smooth, it also is highly resistant to scratches and because it is unaffected by changes in temperature changes and heat, it can go straight from the freezer to the oven without cracking. You can fill it with boiling water and it will not shatter. In other words, it's durable. You can put it in the microwave, you can put it in the dishwasher, though with R+D Lab colored glass, you should hand-wash, simply to preserve the vibrant hue. Handled carefully, these glasses will last a lifetime.
Shall we look at some of them, then? Let's start with a very special one from R+D's Velasca collection.
One day this summer, Jay Vosoghi emailed from Milan, wanting to know if East Fork would be interested in helping to design a new offering that would only be available at East Fork: a coupe. A coupe! Family photo albums from the glamorous past show wedding toasts and it's wall-to-wall coupes. Everyone on Mad Men, not the ubiquitous globe-shaped tumblers at the office, not Betty's forlorn wine glass, but the coupe was the on-the-town nighttime glass. Remember the aforementioned Glass People? Well, you don't need a description of the thrill this project gave them, not to mention that the coupe by that point had become the, apologies for the pun here, holy grail of the glassware East Fork had been trying to find, one which, outside of a single perfect antique set Kirby Wolf, our senior sales manager, had found somewhere. The question was, "Why don't people make these?"
What serendipity that R+D Lab came calling. Jay was thinking about East Fork while on a seaside vacation. He said he felt inspired by the way East Fork connects its products to food, drink and lifestyle. He started with a piece of paper and a soft pencil to draw the lines and curves before moving to technical drawings then 3D printing to check proportions on a prototype before making the molds that are used by the glassblowers.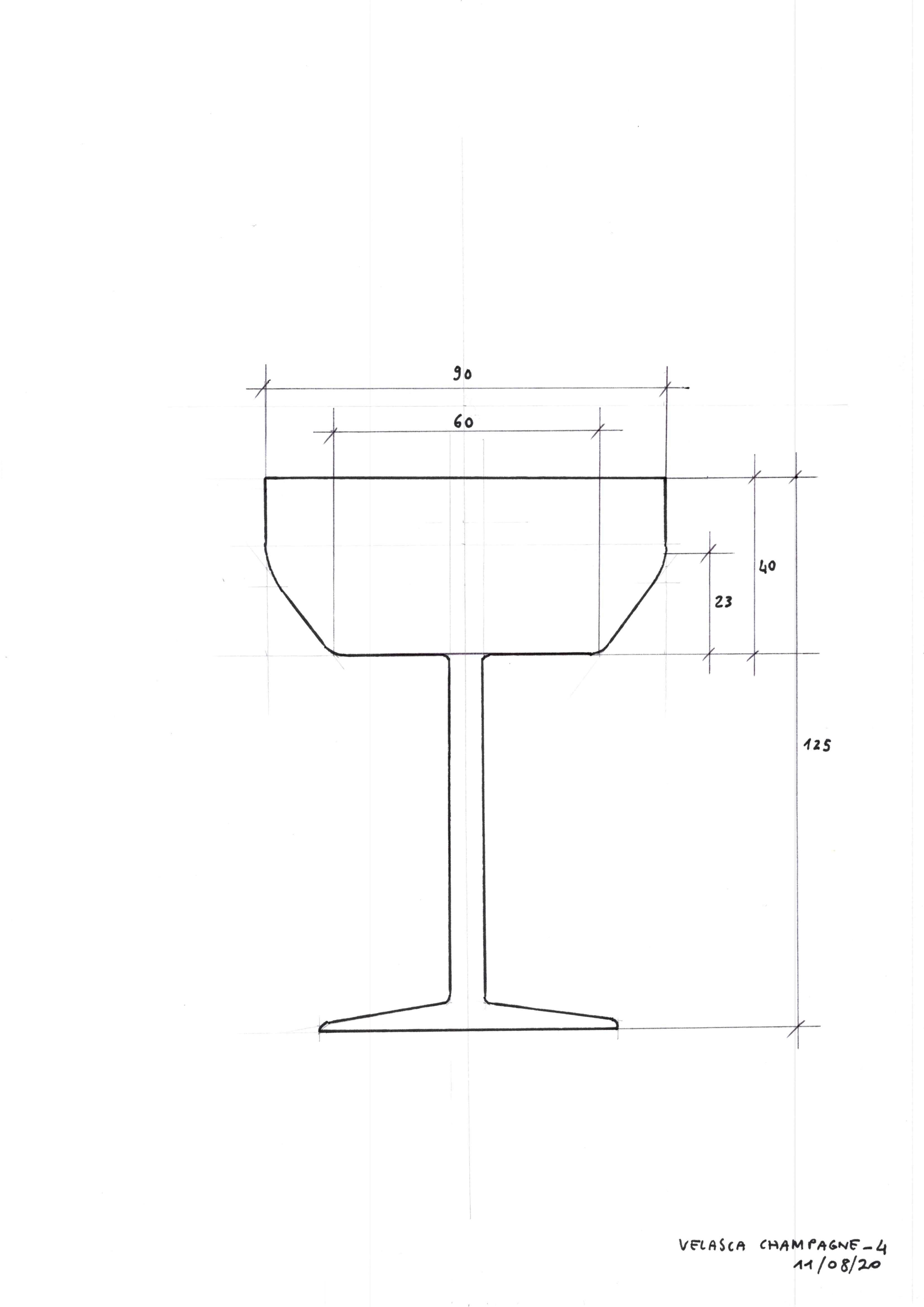 The final drawing of the Velasca Coupe.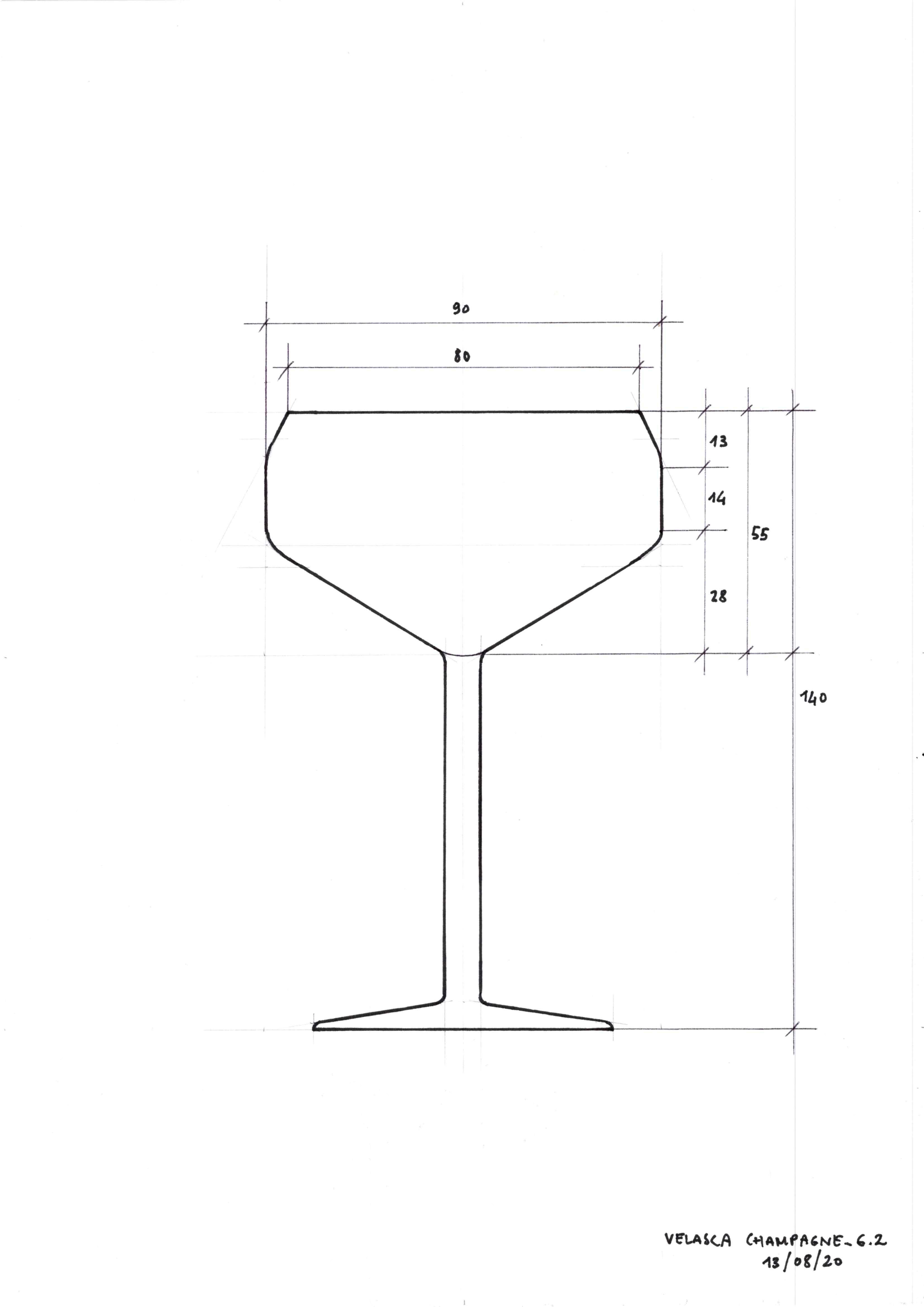 Initial drawing of the Velasca Coupe.
Jay said he was amazed by how quickly things came together. "Normally, things take months to do but we managed to do it in such a short time and I attribute that to how much we are inline with each other." We feel the same way about his design studio, and feel a kindredness with R&D Lab's statement of purpose: "Together, we work as a team to create highly distinctive products that are functional, sustainable and meaningful for modern life." East Fork shares those goals.We've been drinking gin Martinis from these coupes and have designs on serving a couple of scoops of gelati in them, too.